UF144 - Mr. 8:20
This is the one hundred and forty fourth puzzle you will encounter in Professor Layton and the Unwound Future. To access this puzzle, you must examine the fountain. In order to solve this puzzle, you must determine which person has the nickname of "Mr. 8:20."
[edit]
Messages
[edit]
When Failed
Too bad!
All five of them are pretty weird looking, but look closely and you should be able to figure it out.
[edit]
When Completed
Very good!
Person E is "Mr. 8:20."
As illustrated above, the position of this gentleman's mustache is the same as the hands on an analog clock at 8:20.
The other people are certainly unique, but the nickname couldn't apply to any of their clothes because they won't always be wearing the same thing. And women and children, of course, would never be called "mister."
[edit]
Solution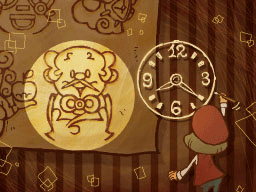 Person E is Mr. 8:20.
[edit]
Progress
620 Picarats and 99 Hint Coins.