UF147 - Paving the Garden
This is the one hundred and forty seventh puzzle you will encounter in Professor Layton and the Unwound Future. To access this puzzle, you must examine the structure on the right. In order to solve this puzzle, you must determine which type of paving stone can be used to pave the entire garden, without overlapping or flipping.
[edit]
Messages
[edit]
When Failed
Too bad.
Maybe landscape gardening is harder than it looks...
[edit]
When Completed
Correct!
Stone E is the only one that will work.
[edit]
Solution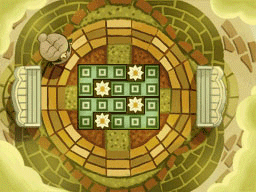 Stone E can be used.
[edit]
Progress
1030 Picarats and 123 Hint Coins.