UF149 - Strange Symbols
This is the one hundred and forty ninth puzzle you will encounter in Professor Layton and the Unwound Future. To access this puzzle, you must examine the leftmost locker. In order to solve this puzzle, you must determine what number C is symbolizing.
[edit]
Messages
[edit]
When Failed
Bad luck.
Try looking at the symbols from a bit further away.
[edit]
When Completed
Correct!
C is 52.
If you turn the symbols 90 degrees to the right and draw a line straight through the middle, the numbers are 63, 89, and 52.
[edit]
Solution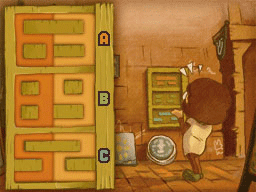 C is 52.
[edit]
Progress
950 Picarats and 114 Hint Coins.