UF151 - A Difference of 39
This is the one hundred and fifty first puzzle you will encounter in Professor Layton and the Unwound Future. To access this puzzle, you must examine the clock. In order to solve this puzzle, you must determine which square on each side must be touched to create two different numbers with a difference of 39.
[edit]
Messages
[edit]
When Failed
Bad luck.
What number cans you make by touching the panels?
[edit]
When Completed
Correct!
One side will be 98 and the other 59.
[edit]
Solution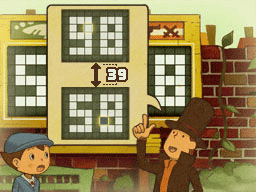 Both numbers will be 98 and 59.
[edit]
Progress
3265 Picarats and 246 Hint Coins.