UF153 - An Extra Block
This is the one hundred and fifty third puzzle you will encounter in Professor Layton and the Unwound Future. To access this puzzle, you must examine the door on the left. In order to solve this puzzle, you must determine which block won't be used to fill in the green frame.
[edit]
Messages
[edit]
When Failed
Too bad!
Have you tried counting all the triangles?
[edit]
When Completed
Excellent!
Was it tough to assemble in your head? There's actually a really easy way to solve this puzzle. Did you figure it out?
The frame is composed of 22 identical equilateral triangles. The six blocks together are composed of 24 triangles, which is two too many. This means the unused block must be the one made from only two triangles!
[edit]
Solution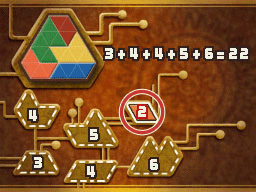 Circle the shape as shown.
[edit]
Progress
1085 Picarats and 129 Hint Coins.