UF158 - From A to D
This is the one hundred and fifty eighth puzzle you will encounter in Professor Layton and the Unwound Future. This puzzle can be accessed through Professor Layton's Challenges. In order to solve this puzzle, you must determine the time it takes to get from station A to station D.
[edit]
Messages
[edit]
When Failed
Too bad!
Try altering your thought process.
[edit]
When Completed
Choo choo!
Twenty minutes is correct.
To meet the conditions of this puzzle, station C must be located between station A and station B.
[edit]
Solution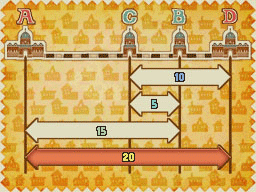 It takes twenty minutes to get between stations A and D.
[edit]
Progress
5320 Picarats and 300 Hint Coins.