UF160 - Dirt Patchwork
This is the one hundred and sixtieth puzzle you will encounter in Professor Layton and the Unwound Future. This puzzle can be accessed through Professor Layton's Challenges. In order to solve this puzzle, you must determine the maximum number of sections that can be created by dividing the patch of dirt with five ropes.
[edit]
Messages
[edit]
When Failed
Too bad!
The sections can all be different sizes. The important thing is to divide the patch into the maximum number of plots.
[edit]
When Completed
Excellent!
You can divide the patch of dirt into as many as 16 different sections!
The first rope divides the circle into two sections. The second rope divides it into four. The third rope crosses the first two and divides the patch into seven sections. Once you've used all five ropes like this, you end up with 16 sections!
A simple example is a star in the center as shown in the image above.
[edit]
Solution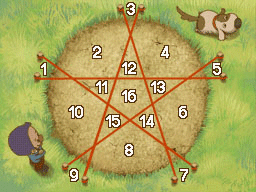 A maximum of 16 sections can be made.
[edit]
Progress
5320 Picarats and 300 Hint Coins.