UF163 - Time Times Three
This is the one hundred and sixty third puzzle you will encounter in Professor Layton and the Unwound Future. This puzzle can be accessed through Professor Layton's Challenges. In order to solve this puzzle, you must arrange all the numbers to create a valid equation, in terms of time.
[edit]
Messages
[edit]
When Failed
Too bad!
Calculating time isn't quite as easy as it might seem at first.
[edit]
When Completed
Correct!
The equation 18 minutes and 49 seconds times three equals 56 minutes and 27 seconds. That wasn't too hard, right?
Nine is the only single-digit number that will produce a seven when multiplied by three, so it's the only possible choice for box D. Also, if the number in box A was any larger than one, the answer would exceed 60 minutes, which isn't allowed in this puzzle. The rest can be calculated step by step.
[edit]
Solution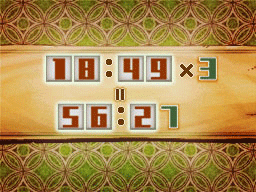 Arrange the numbers as shown.
[edit]
Progress
5600 Picarats and 300 Hint Coins.