UF164 - Calendar Conundrum
This is the one hundred and sixty fourth puzzle you will encounter in Professor Layton and the Unwound Future. This puzzle can be accessed through Professor Layton's Challenges. In order to solve this puzzle, you must determine what the smallest number would be when four numbers are circled to equal 88.
[edit]
Messages
[edit]
When Failed
Too bad!
Don't go too crazy trying to add up every possible combination of four numbers that equals 88. Instead, try to be efficient in your thought process.
[edit]
When Completed
Ding ding!
It's 18! If you look closely at a calendar, you'll see some numerical patterns. Numbers to the left or right of each other differ by one. Numbers above or below one another differ by seven. In a block of four numbers, the bottom row total and top row total will have a difference of 14 between them. So, if the sum of four numbers in a square is 88, the upper two must equal 44 - 7, 37. And those two must differ by one, so they're 19 and the answer, 18!
[edit]
Solution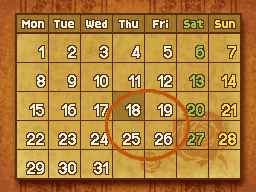 The smallest number will be 18.
[edit]
Progress
5660 Picarats and 300 Hint Coins.