UF166 - Perplexing Produce
This is the one hundred and sixty sixth puzzle you will encounter in Professor Layton and the Unwound Future. This puzzle can be accessed through Professor Layton's Challenges. In order to solve this puzzle, you must arrange the tiles so that the four types of fruit are lined up.
[edit]
Messages
[edit]
When Failed
Too bad!
Something isn't lined up correctly.
[edit]
When Completed
Fruitabulous!
Did it take you very long?
[edit]
Solution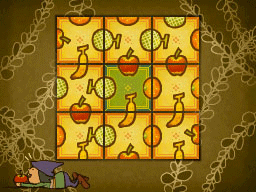 Arrange the tiles as shown.
[edit]
Progress
5820 Picarats and 300 Hint Coins.