Verdant Springs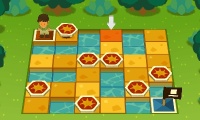 Verdant Springs is a set of daily puzzles released for Professor Layton and the Azran Legacy. It is the ninth set of daily puzzles.
"Hop, skip and jump your way to the goal!"
[edit]
How to Solve
The character at the red square must be moved to the flag on the blue square on the board, by using the Touch Screen arrows or the D Pad. The character can move on a trampoline tile to jump across other tiles, but must be cautious of landing in the water or on the grass. Whenever a trampoline is stepped on, it will launch the character depending on the furthest tile he was situated at, horizontally or vertically. For example, being one square away will allow the character to move two tiles.
You must land on the blue goal to solve the puzzle.
[edit]
List of Puzzles