War-igami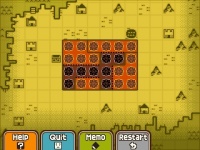 War-igami is a set of daily puzzles released for Professor Layton and the Azran Legacy. It is the fourteenth set of daily puzzles.
"Have your knights fold those monsters into oblivion!"
[edit]
How to Solve
Fold each of the regions on the Touch Screen along the dotted lines to rid of the enemies and recover part of the region. The light orange areas indicate where the fight is most fierce, while darker sections cannot be folded.
You must fold each section to rid if the enemy entirely to solve the puzzle.
[edit]
List of Puzzles