Wedgeham Castle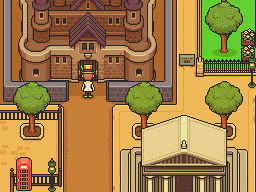 Wedgeham Castle is a location which is found in the side-game Professor Layton's London Life. It is found near Oxshire Museum and has a periodic look and feel to it.
Wedgeham Castle hosts and houses Anton Herzen and his butler Nigel, who is never seen throughout the game. However, if the player chooses Anton Herzen as their roommate, Jean Descole moves in. After completing the quest Seeking A Generous Soul, the Castle undergoes a makeover, making it look more grand and lavish. Wedgeham Castle also hosts the quests Courage In Numbers, Mouse Problem and A New Shadow.
Last edited by
Aurigae
on 15 August 2012 at 08:43
This page has been accessed 87 times.