Wights and Knights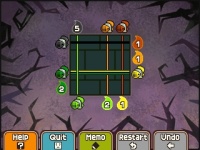 Wights and Knights is a set of daily puzzles released for Professor Layton and the Azran Legacy. It is the fourth set of daily puzzles. This set is a continuation of the Ghouls and Guards puzzles from Professor Layton and the Miracle Mask.
"Reflect the knights' mighty light to force the foes to take flight!"
[edit]
How to Solve
Tap the Touch Screen to place mirrors down in order to reflect the light beams. Tapping a mirror once will change its angle, and once again to remove it from the screen. Ghosts can only be eliminated by light beams of the same color as them, and must be reflected a certain number of times. Each area on the board must contain one mirror.
You must banish all the ghosts with the light beams to solve the puzzle.
[edit]
List of Puzzles