Woolly Tactics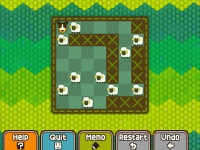 Woolly Tactics is a set of daily puzzles released for Professor Layton and the Azran Legacy. It is the third set of daily puzzles.
"Use your loyal sheepdog to round up your errant flock!"
[edit]
How to Solve
To move the sheepdog around, slide it around with the stylus. To round up the sheep and send them to the pen, line up two sheep next to each other. Sheep cannot be moved into squares marked with an X, and directing sheep into corners make them more difficult to round up.
You must round up all the sheep into the pen to solve the puzzle.
[edit]
List of Puzzles