CV010 - Four Digits (UK)
For the puzzle appearing in the US version, see CV010 - Alphabet (US)
This is the tenth puzzle that appears in the UK version of Professor Layton and the Curious Village. To access this puzzle, you must interact with the bookcase. In order to solve this puzzle, you must find the values of each letter.
[edit]
Messages
[edit]
When Failed
Too bad!
[edit]
When Completed
That's right! ABCD = 2368.
Since A + C and A x 4 both equal D, then C must equal A x 3. If C - B = B, then C must also equal B x 2. The only single-digit number divisible by both 2 and 3 is 6. Once you know that C = 6, the rest is easy.
[edit]
Solution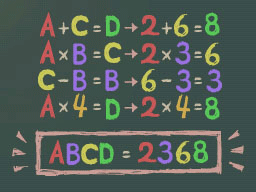 ABCD = 2368.
[edit]
Progress
280 Picarats and 28 Hint Coins.