CV017 - Five-Card Shuffle
This is the seventeenth puzzle that appears in Professor Layton and the Curious Village. To access this puzzle, you must talk to Stachenscarfen. In order to solve this puzzle, you must determine which image is different to the others.
[edit]
Messages
[edit]
When Failed
Nope!
Look at the problem again.
[edit]
When Completed
Good job!
This puzzle is fairly straightforward, but catching the subtle difference in the picture can take a while.
[edit]
Solution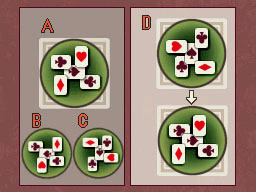 Image D is different.
[edit]
Progress
510 Picarats and 37 Hint Coins.