CV038 - Island Hopping
This is the thirty-eighth puzzle that appears in Professor Layton and the Curious Village. To access this puzzle, you must talk to Zappone. In order to solve this puzzle, you must determine where an additional bridge must be built to visit every island exactly once.
[edit]
Messages
[edit]
When Failed
Nope!
Take another look at this puzzle.
[edit]
When Completed
That's right!
Now get out there and go enjoy that island paradise!
[edit]
Solution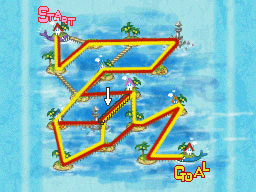 Add a bridge as shown.
[edit]
Progress
1295 Picarats and 65 Hint Coins.