CV046 - Star in the Sky (UK)
For the puzzle appearing in the US version, see CV046 - The Biggest Star (US)
This is the forty-sixth puzzle to appear in the UK version of Professor Layton and the Curious Village. To access this puzzle, you must talk to Deke. In order to solve this puzzle, you must determine how many triangles appear in the picture.
[edit]
Messages
[edit]
When Failed
Too bad!
[edit]
When Completed
That's right!
There are 12 triangles in all. The roof and chimney count as one each, and you can easily spot the five small triangles inside the big star.
Was it hard to find all the big ones?
[edit]
Solution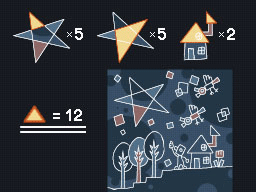 There are 12 triangles in total.
[edit]
Progress
1595 Picarats and 84 Hint Coins.
Related Threads
Puzzle 46 Star in the Sky.
- last post by
@ Mar 27, 2009
Last edited by
Squiggle
on 28 December 2015 at 03:09
This page has been accessed 1,171 times.