CV047 - On the Run
This is the forty-seventh puzzle that appears in Professor Layton and the Curious Village. To access this puzzle, you must talk to Gerard. In order to solve this puzzle, you must determine which exit the bandit can never take using his rules.
[edit]
Messages
[edit]
When Failed
Too bad!
This puzzle requires flexible thinking.
[edit]
When Completed
That's right!
As you can see from the diagram, if the bandit must turn every time he approaches an intersection, the way he can move through the town are set.
As a result, no matter how he approaches B, he'll never be able to leave through there.
[edit]
Solution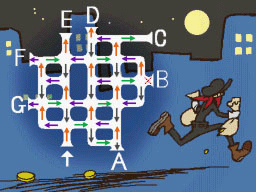 The bandit can't leave through exit B.
[edit]
Progress
1645 Picarats and 87 Hint Coins.