CV054 - Monster!
This is the fifty-fourth puzzle that appears in Professor Layton and the Curious Village. To access this puzzle, you must talk to Giuseppe. In order to solve this puzzle, you must locate the monster and stab it in the eye.
[edit]
Messages
[edit]
When Failed
Too bad!
That beast is there somewhere, so keep searching.
[edit]
When Completed
Well done!
It seems the fiend was hiding in the night sky. You certainly gave it what for!
[edit]
Solution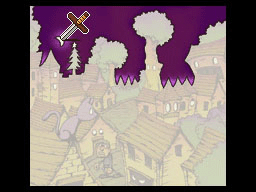 Place the sword as shown.
[edit]
Progress
1795 Picarats and 99 Hint Coins.