CV055 - The Odd Sandwich
This is the fifty-fifth puzzle that appears in Professor Layton and the Curious Village. To access this puzzle, you must talk to Beatrice. In order to solve this puzzle, you must determine how many times the sandwich must be cut to fit it in the container.
[edit]
Messages
[edit]
When Failed
Too bad!
Take a closer look. There's an easy way to make the sandwich fit into the container.
[edit]
When Completed
That's right!
This puzzle is a snap once you see how the sandwich's protruding edges fit together.
[edit]
Solution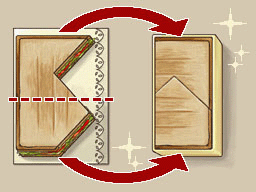 The sandwich must only be cut once.
[edit]
Progress
1895 Picarats and 109 Hint Coins.