CV056 - The Lazy Guard
This is the fifty-sixth puzzle that appears in Professor Layton and the Curious Village. To access this puzzle, you must talk to Stachenscarfen. In order to solve this puzzle, you must determine the fewest number of turns the guard can take to go through all rooms.
[edit]
Messages
[edit]
When Failed
Give it another shot!
The puzzle shows you an example on purpose. Sometimes seeing an example keeps people from thinking creatively. Don't get stuck in a rut.
[edit]
When Completed
That's right!
If the security guard takes a path like the one shown above, he can finish his patrol of all nine rooms in just two turns.
Since the example shows the guard turning right angles to go from room to room, it's easy to assume that your solution works the same way even though that's not the case.
[edit]
Solution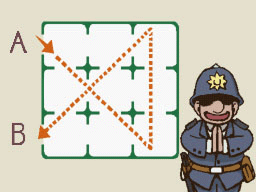 The guard can take just two turns.
[edit]
Progress
1925 Picarats and 110 Hint Coins.