CV062 - A Tricky Inheritance (UK)
For the puzzle appearing in the US version, see CV062 - The Mysterious Note (US)
This is the sixty-second puzzle that appears in the UK version of Professor Layton and the Curious Village. To access this puzzle, you must talk to Inspector Chelmey. In order to solve this puzzle, you must determine the area of the triangle.
[edit]
Messages
[edit]
When Failed
Too bad!
[edit]
When Completed
That's right! It's 150 square metres.
There are several different ways to find the answer, but here's an interesting one. By drawing two lines on the diagram as shown in Figure 1, you can see that a and b are the same. By moving it from a to b as shown in Figure 2, you can make two right-angled triangles.
The rest is easy!
[edit]
Solution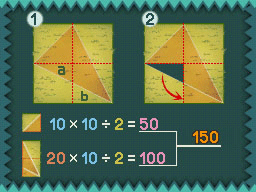 The triangle is 150 square meters.
[edit]
Progress
2185 Picarats and 117 Hint Coins.