CV067 - The Chocolate Code (US)
For the puzzle appearing in the UK version, see CV067 - How Many Sweets? (UK)
This is the sixty-seventh puzzle that appears in Professor Layton and the Curious Village. To access this puzzle, you must talk to Lucy. In order to solve this puzzle, you must determine the code within the chocolate.
[edit]
Messages
[edit]
When Failed
Try again!
If you can't figure out what she's trying to tell you, she's going to be pretty steamed!
[edit]
When Completed
Excellent!
Your girlfriend's message is "TEXT ME."
The bites taken out of the chocolate show you how each letter written on the chocolate relates to letters on a keyboard.
[edit]
Solution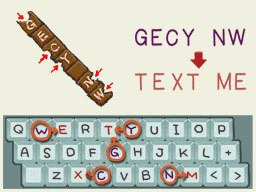 The message is "TEXT ME."
[edit]
Progress
2355 Picarats and 119 Hint Coins.
Related Threads
No. 67 (chocolate code)
- last post @ May 11, 2012