CV068 - Find the Pentagons
This is the sixty-eighth puzzle that appears in Professor Layton and the Curious Village. To access this puzzle, you must talk to Gerard. In order to solve this puzzle, you must determine the number of five-sided shapes hidden in the picture.
[edit]
Messages
[edit]
When Failed
Try again!
[edit]
When Completed
Nice work!
Three different types of pentagons are hidden in this picture. Since each shape can face four different directions, you have a total of 12 unique pentagons.
[edit]
Solution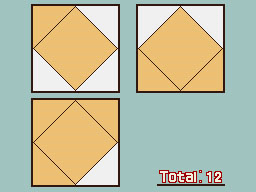 There are 12 different pentagons in the picture.
[edit]
Progress
2395 Picarats and 121 Hint Coins.