CV070 - The Shattered Vase
This is the seventieth puzzle that appears in Professor Layton and the Curious Village. To access this puzzle, you must enter the area and talk to Giuseppe. In order to solve this puzzle, you must piece the vase back together, keeping in mind that one piece belongs to another vase.
[edit]
Messages
[edit]
When Failed
Nope!
Give this one another try.
[edit]
When Completed
Good job!
Repairing the vase wasn't much of a challenge, was it? Oh, if only fixing things in real life were this simple.
[edit]
Solution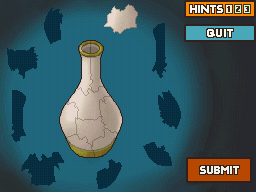 Repair the vase as shown.
[edit]
Progress
2435 Picarats and 122 Hint Coins.