CV091 - Pattern Matching
This is the ninety-first puzzle that appears in Professor Layton and the Curious Village. To access this puzzle, you must examine the picture on the right wall. In order to solve this puzzle, you must determine which piece fits into the pattern.
[edit]
Messages
[edit]
When Failed
Try again!
Study that pattern carefully.
[edit]
When Completed
Excellent!
It's really just a matter of finding the right matching pattern, but staring at all those different pieces and trying to find one that fits is more complex than one would think.
[edit]
Solution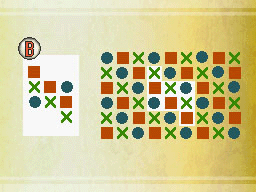 B fits into the pattern.
[edit]
Progress
3625 Picarats and 189 Hint Coins.