CV101 - Splitting It Up
This is the one hundred and first puzzle that appears in Professor Layton and the Curious Village. To access this puzzle, you must examine the top of the pillar. In order to solve this puzzle, you must determine how many cubes will have just one side painted red.
[edit]
Messages
[edit]
When Failed
Too bad!
Think about where a cube has to be situated in the larger structure in order to only have one red side.
[edit]
When Completed
That's right!
If you can dissect the block in your head in the way shown above, the answer is easy enough to come by.
As you can see, the number of small cubes with one side painted red is six, one for each face of the larger block.
[edit]
Solution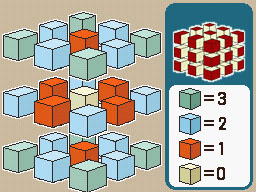 Six cubes have one painted side.
[edit]
Progress
1395 Picarats and 68 Hint Coins.