CV104 - A Sweet Treat
This is the one hundred and fourth puzzle that appears in Professor Layton and the Curious Village. To access this puzzle, you must talk to Prosciutto. In order to solve this puzzle, you must divide the chocolate into four of the same shape, making sure an almond is in a different location for each portion.
[edit]
Messages
[edit]
When Failed
Too bad!
Study the position of those almonds.
[edit]
When Completed
Nicely done!
Now make sure you share with everyone!
[edit]
Solution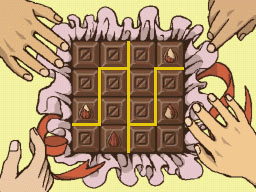 Divide the chocolate as shown.
[edit]
Progress
3715 Picarats and 189 Hint Coins.