CV109 - Laziest Man on Earth
This is the one hundred and ninth puzzle that appears in Professor Layton and the Curious Village. To access this puzzle, you must talk to Archibald. In order to solve this puzzle, you must determine the area the man cannot reach without leaving his recliner.
[edit]
Messages
[edit]
When Failed
Give it another shot!
Why would he have to get off his duff? Think about it.
[edit]
When Completed
That's right!
There's no way for him to reach under his chair without getting off his rear end!
If that fishing rod, extendo-arm, and magnet combo works as well as it seems to in the picture, this fellow may never get up again.
[edit]
Solution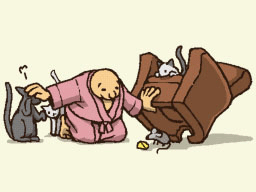 The man cannot reach under his chair.
[edit]
Progress
2635 Picarats and 130 Hint Coins.