DB081 - The Old Safe
This is the eighty-first puzzle you will encounter in Professor Layton and the Diabolical Box. To access this puzzle, you must examine the safe. In order to solve this puzzle, you must figure out the code to unlock the safe, using the above numbers as clues.
[edit]
Messages
[edit]
When Failed
Too bad!
Give the puzzle another try.
[edit]
When Completed
That's right!
The code is 0154. Some people solve this by entering numbers haphazardly until they stumble upon the solution, but it's much more fun to think your way to the answer.
[edit]
Solution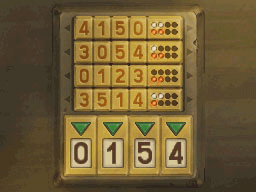 The code is 0154.
[edit]
Progress
3505 Picarats and 187 Hint Coins.