DB122 - Light the Forest 2
This is the one hundred and twenty-second puzzle you will encounter in Professor Layton and the Diabolical Box. To access this puzzle, you must examine the lantern on the left. In order to solve this puzzle, you must use the fewest lamps possible to light all the paths.
[edit]
Messages
[edit]
When Failed
Too bad!
[edit]
When Completed
Good job!
The paths were pretty creepy, but that was just because it was dark...right?
[edit]
Solution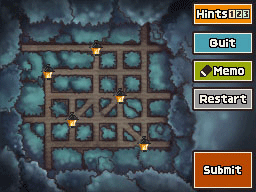 Place the lamps as shown.
[edit]
Progress
3615 Picarats and 190 Hint Coins.