DB124 - UFOs Spotted!
This is the one hundred and twenty-fourth puzzle you will encounter in Professor Layton and the Diabolical Box. To access this puzzle, you must examine the step below the street light. In order to solve this puzzle, you must determine which shape is the base part for all four UFOs.
[edit]
Messages
[edit]
When Failed
Too bad!
Using the Memo function might help you work this one out.
[edit]
When Completed
That's right!
It's C. So that means there weren't four UFOs in the night sky after all...there was 16!
Very disturbing.
[edit]
Solution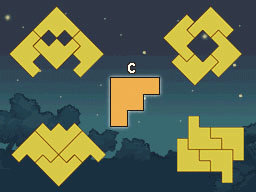 Shape C is the base shape.
[edit]
Progress
2460 Picarats and 154 Hint Coins.