DB125 - Forest Mushrooms
This is the one hundred and twenty-fifth puzzle you will encounter in Professor Layton and the Diabolical Box. To access this puzzle, you must examine the mushroom. In order to solve this puzzle, you must pass through each clearing once and make it to the exit.
[edit]
Messages
[edit]
When Failed
Too bad!
Check again to make sure you didn't miss something.
[edit]
When Completed
Mushtastic!
I guess you realized you don't need to use every single path.
[edit]
Solution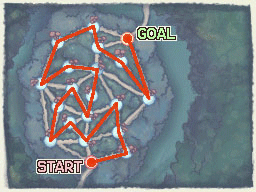 Take the path as shown.
[edit]
Progress
3705 Picarats and 193 Hint Coins.