DB132 - Sharing Paintings
This is the one hundred and thirty-second puzzle you will encounter in Professor Layton and the Diabolical Box. To access this puzzle, you must examine the painting on the right wall. In order to solve this puzzle, you must determine which painting the appraiser will receive after the brothers divide the paintings bewteen themselves, making sure the older brother receives a set of paintings worth twice what the younger brother receives.
[edit]
Messages
[edit]
When Failed
Too bad!
Maybe you should run through your calculations one more time.
[edit]
When Completed
That's right!
The appraiser receives painting E.
The older brother inherits paintings A, C, and D, which are worth $120,000 total. The little brother gets a single painting worth $60,000, half of what his brother gets.
In the end, the appraiser takes home the most expensive painting of all. My, isn't that convenient!
[edit]
Solution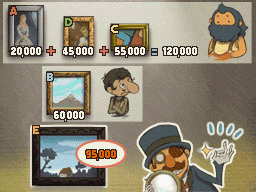 The appraiser will receive painting E.
[edit]
Progress
4195 Picarats and 230 Hint Coins.