DB139 - Coast to Coast
This is the one hundred and thirty-ninth puzzle you will encounter in Professor Layton and the Diabolical Box. This puzzle can be accessed through Professor Layton's Challenges. In order to solve this puzzle, you must determine what time the plane will arrive in Los Angeles from New York.
[edit]
Messages
[edit]
When Failed
Too bad!
Factoring in that bothersome time difference can be tricky, but as long as you remember to account for it, you'll arrive at the correct answer without too much work.
[edit]
When Completed
Good job!
The plane arrives back in Los Angeles at 14:00, or 2 p.m. Due to the three-hour time difference, when it's noon in Los Angeles, it's 3 p.m. in New York. The plane gets in New York at 8 p.m., so the actual flying time of the plane must be five hours. The flight back to Los Angeles also takes five hours, meaning that it arrived at 17:00 hours, or 5 p.m. New York time. Factor in the time difference to get the plane's arrival in Los Angeles: 14:00, or 2 p.m.
[edit]
Solution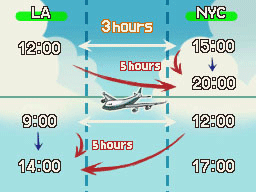 The plane arrives in Los Angeles at 14:00 (2 p.m.).
[edit]
Progress
4375 Picarats and 230 Hint Coins.