DB146 - Angles in a Box
This is the one hundred and forty-sixth puzzle you will encounter in Professor Layton and the Diabolical Box. This puzzle can be accessed through Professor Layton's Challenges. In order to solve this puzzle, you must determine the degrees of the angle ABC.
[edit]
Messages
[edit]
When Failed
Too bad!
This puzzle is more about visualization than calculation.
[edit]
When Completed
Good job!
The answer is 120 degrees.
If you continued to connect the middle points of sides in this way, you would draw a regular hexagon. And the internal angles in regular hexagons are always 120 degrees!
[edit]
Solution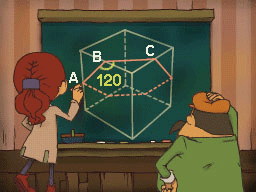 Angle ABC is 120 degrees.
[edit]
Progress
4903 Picarats and 230 Hint Coins.