DB148 - Eight Cards
This is the one hundred and forty-eighth puzzle you will encounter in Professor Layton and the Diabolical Box. This puzzle can be accessed through Professor Layton's Challenges. In order to solve this puzzle, you must correctly arrange the cards to create a valid equation.
[edit]
Messages
[edit]
When Failed
Too bad!
Perhaps you made a calculation error?
[edit]
When Completed
Way to go!
The answer is 582x3=1746.
[edit]
Solution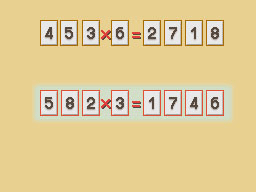 Arrange the numbers as shown.
[edit]
Progress
5053 Picarats and 230 Hint Coins.