Enchantress of the Elements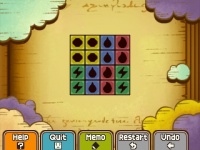 Enchantress of the Elements is a set of daily puzzles released for Professor Layton and the Azran Legacy. It is the twentieth, and final, set of daily puzzles. This set is similar to the Tile set from Professor Layton and the Miracle Mask.
"Combine the elements and help the witch cast her spell!"
[edit]
How to Solve
Tap one of the tiles on the Touch Screen to highlight it, and tap it again to remove the highlight. Tapping four different tiles that are adjacent will cause them to disappear, allowing the blocks above to fall into their place.
You must make all the tiles disappear to solve the puzzle.
[edit]
List of Puzzles