Garden Fours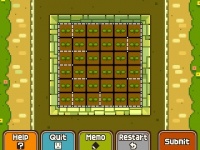 Garden Fours is a set of daily puzzles released for Professor Layton and the Azran Legacy. It is the nineteenth set of daily puzzles.
"Mark out plots of varying shape and get this garden growing!"
[edit]
How to Solve
Draw fences with the stylus along the Touch Screen to divide the whole garden into four square plots. There must not be two plots of the same shape next to each other, even if rotated; mirrored shapes can be placed together, however. Each different shape is represented by a color to make things easier.
You must divide the garden into plots of four squares with varying shapes to solve the puzzle.
[edit]
List of Puzzles