LS112 - Wall Repair
This is the one hundred and twelfth puzzle in Professor Layton and the Last Specter. To access this puzzle, you must talk to Brock. In order to solve this puzzle, you must fit all the blocks into the hole, leaving gaps if necessary.
[edit]
Messages
[edit]
When Failed
You cannot fail this puzzle.
[edit]
When Completed
Correct!
Your solution may be a flipped or rotated version of the one shown here.
Now we don't have to worry about the building falling over!
[edit]
Solution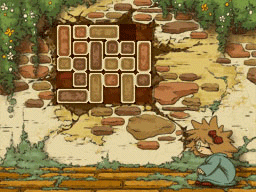 Arrange the blocks as shown.
[edit]
Progress
4445 Picarats and 279 Hint Coins.