MJ006 - Paper Caper
This is the sixth puzzle you'll encounter in Layton's Mystery Journey: Katrielle and the Millionaires' Conspiracy. To access this puzzle, you must investigate the trash bin. To complete the puzzle, you must fit the pieces of paper back together.
[edit]
Messages
[edit]
When Failed
You cannot fail this puzzle.
[edit]
When Completed
You did it!
Putting the pieces of paper back together showed a recipe for some bread in the shape of a squid. On the back is something that looks like the hand of a clock...
[edit]
Solution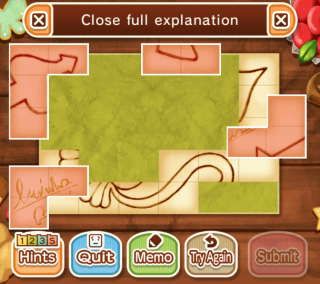 Flip the following pieces.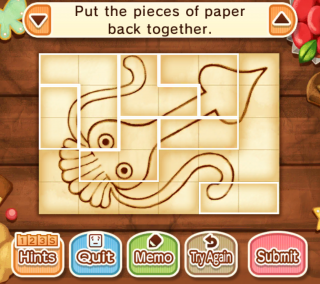 Position the pieces as shown.
[edit]
Progress
215 Picarats and 24 Hint Coins.
Last edited by
Squiggle
on 3 August 2017 at 00:27
This page has been accessed 191 times.