MJ041 - O Christmas Tree!
This is the forty-first puzzle you'll encounter in Layton's Mystery Journey: Katrielle and the Millionaires' Conspiracy. To access this puzzle, you must investigate the leftmost chimneys. To complete the puzzle, you must fit the pieces together to make three trees.
[edit]
Messages
[edit]
When Failed
You cannot fail this puzzle.
[edit]
When Completed
You did it!
Another year that they can enjoy their lovely tree decoration.
No doubt they'll have forgotten how it goes together again by the time next Christmas rolls around.
[edit]
Solution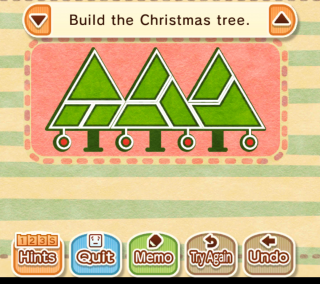 Arrange the pieces as shown.
[edit]
Progress
1530 Picarats and 106 Hint Coins.
Last edited by
Squiggle
on 4 September 2017 at 01:00
This page has been accessed 100 times.