MM100 - Gate to the Ruins!
This is the one hundredth puzzle you'll encounter in Professor Layton and the Miracle Mask. You will access this puzzle automatically once you enter the eighth floor of the Akbadain Ruins and watch the cutscene. In order to solve this puzzle, you must place the correct blocks into each slot to open the door.
[edit]
Messages
[edit]
When Failed
You cannot fail this puzzle.
[edit]
When Completed
Correct.
The symbols show you which block to use in each slot based on the way each block is framed by the others.
Aren't you just itching to see what's beyond that door?
[edit]
Solution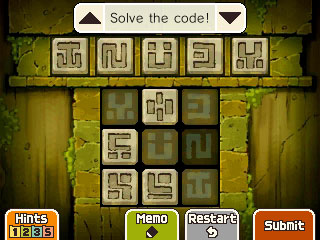 Place the blocks as shown.
[edit]
Progress
3515 Picarats and 211 Hint Coins.