PLAA41 - Alley Allowance
This is the forty-first puzzle you'll encounter in Professor Layton vs. Phoenix Wright: Ace Attorney. To access this puzzle, you must examine the sack of potatoes. In order to solve this puzzle, you must find a route through the alley by using your coins to remove tiles.
[edit]
Messages
[edit]
When Failed
You cannot fail this puzzle.
[edit]
When Completed
Wonderful!
Now you can cut through this alley any time you please!
[edit]
Solution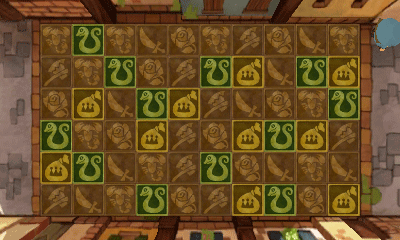 Remove the rose, axe, sword, and scorpion symbols.
[edit]
Progress
2765 Picarats and 129 Hint Coins.