PLAA46 - Odd Box Out
This is the forty-sixth puzzle you'll encounter in Professor Layton vs. Phoenix Wright: Ace Attorney. To access this puzzle, you must talk to Cooper. In order to solve this puzzle, you must figure out which box is the odd one out.
[edit]
Messages
[edit]
When Failed
Not quite.
Looking at cubes from only one angle will not be enough to solve this puzzle.
Keep turning the cubes and carefully examine all of the sides. You're bound to notice something odd.
[edit]
When Completed
Excellent!
Being able to only see three sides of each cube at a time makes this puzzle quite tricky.
Luckily, it was just a matter of imagining the cubes in your mind to bring it all into focus!
[edit]
Solution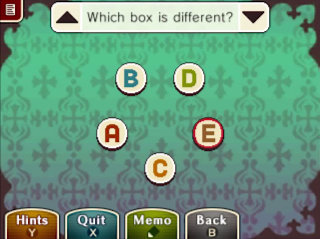 Box E is different.
[edit]
Progress
2985 Picarats and 135 Hint Coins.