PLAA63 - Enchanted Sums
This is the sixty-third puzzle you'll encounter in Professor Layton vs. Phoenix Wright: Ace Attorney. To access this puzzle, you must examine the door on the Bridge to the Tower. In order to solve this puzzle, you must make sure each triangle adds to a total of 39.
[edit]
Messages
[edit]
When Failed
You cannot fail this puzzle.
[edit]
When Completed
Correct!
A shiver runs down your spine as the door opens and an eerie silence fills the air.
Just what awaits you on the other side?
[edit]
Solution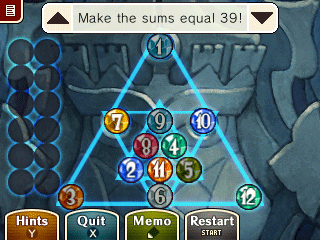 Insert the gems as shown.
[edit]
Progress
3600 Picarats and 188 Hint Coins.