Pipework Patch-up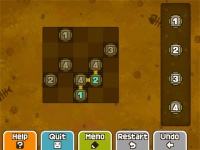 Pipework Patch-up is a set of daily puzzles that were released for Professor Layton and the Miracle Mask. It is the twentieth, and last, set of daily puzzles that were revealed.
"The park's ruddy pipework has gone to pot and no one is amused! Get a move on with those repairs, will you?! The park needs its water supply!"
[edit]
How to Solve
Drag the pipes on the right into the grid to connect every pipe. The numbers on each pipe corresponds to how many connections need to be made to that pipe. It will turn blue when the correct number is achieved, but when there are too many connections, it will turn red.
When pipes of the same number are placed next to each other, they also turn red. Each pipe must have a different number next to it. Touch a blank space once to put down a placeholder for where a possible connection may be, and touch it again to place down a cross where a connection shouldn't be made.
You must connect all the pipes up correctly and turn them all blue to solve the puzzle.
[edit]
List of Puzzles