Primordial Gloop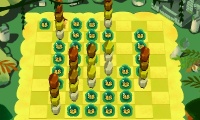 Primordial Gloop is a set of daily puzzles released for Professor Layton and the Azran Legacy. It is the seventeenth set of daily puzzles.
"Topple pillars and turn the jelly monsters into mush!"
[edit]
How to Solve
Move the character around on the board with the D Pad or the arrows on the Touch Screen and topple the pillars to squash the monsters. Move towards a pillar to topple it in the direction it is pushed. Pillars cannot be toppled if they fall on top of other stones or outside the board, and the character cannot jump over stones or monsters.
You must destroy all the monsters with the pillars to solve the puzzle.
[edit]
List of Puzzles